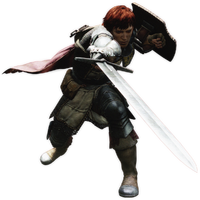 Swords are regular sized blades wielded by Fighters, Mystic Knights and Assassins. Swords offer a decent amount of range and power and are often wielded in tandem with Shields. Swords are sharpened to deal Slashing damage.
Sword Skills are focused almost exclusively around physical offense, though Assassins have some counters, and Mystic Knights may use the sword in spellcasting.
Stats listed as Dragonforged.
Weapon Level Requirement (Lvl. Req.) is the minimum Character Level needed for use without stamina penalty.
Trending pages
All items (26)
A
B
C
D
E
F
G
I
R
S
T
U
W
Community content is available under
CC-BY-SA
unless otherwise noted.