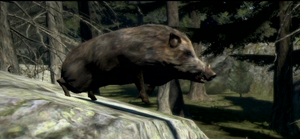 Boar are naturally occurring Fauna in Dragon's Dogma.
Description
Boars are wild pigs that can be found all over Gransys, particularly in woodlands and sometimes in grassland areas not too far away from the roads. Boars will not engage the Arisen on sight, but they will feel provoked and attack if they're approached and lingered for too long.
Notes
Boars take 2.5x the damage compared to that expected from a normal Damage Calculation, for both magick and physical attacks.
If provoked Boar will attack with charge.
Trivia
"Boarball": Boars can be carried, and if tossed at a pawn, they will do its best to catch it. If caught, the pawn will throw the Boar back to the Arisen unless the Boar is aggravated.
Boars take a small amount of damage each time they are thrown and will eventually die.
Boars have an interesting knock back animation in that they spin along their long axis, as if on a spit roast.
Community content is available under
CC-BY-SA
unless otherwise noted.