Blackwing Bow is a weapon available in Dragon's Dogma: Dark Arisen.
Description
"A magickal bow styled after a devil's wing and claws. Its strange and unsettling shape is a testament to its former owner's passion for hunting."
Notes
This is the most powerful magick bow for Magick Archers in the entire game.
All Bitterblack Weapon Lv.3s have a minimum level requirement of 51. Until the level requirement is met, using even basic core attacks, weapon skills and sprinting, will consume unusually large amounts of Stamina. In addition, stamina will replenish at a much slower rate. Simply having a Blackwing Bow equipped while the Arisen uses other level appropriate weapons and armor will consume considerable stamina.
Usable By
Stats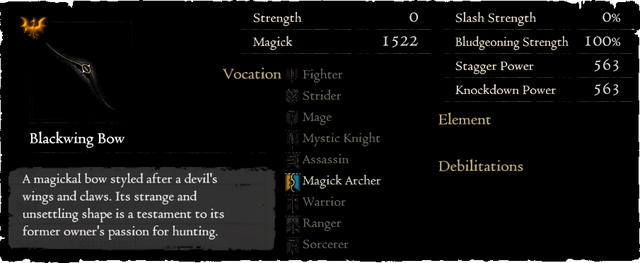 Location
Enhancement Item Locations
Community content is available under
CC-BY-SA
unless otherwise noted.