Beowulf Mask is armor available in Dragon's Dogma.
Description
"A mask named for a hero from beyond the rift. Wearing it bestows the user with holy protection."
Usable By
Stats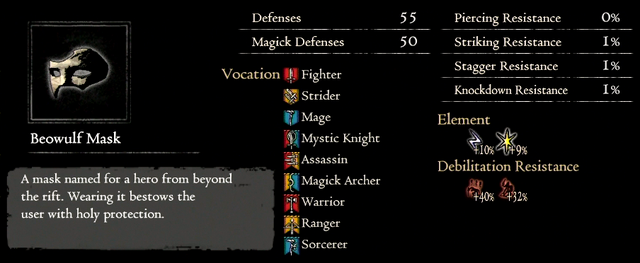 Location
Random reward for only those who obtain a kill on the online Ur-Dragon. The Online Ur Dragon will bestow one of the four masks as part of a kill reward.
Enhancement Item Locations
Trivia
This mask is named for the legendary Beowulf, a Geatish hero in the epic poem that bears his name. One of the oldest surviving pieces of literature in the English language, the tale of Beowulf ends (*SPOILER ALERT*) with a final battle against a wyrm (old English for "dragon"). Although Beowulf cleaves the dragon in half to slay it, he is mortally wounded when he is stabbed by the dragon's poisonous horn during the battle. With his dying breath, he names his Swedish kinsman Wiglaf as his rightful heir and is buried in a barrow by the sea.
This mask is named after Beowulf, a Geatish hero appear in an epic poem named "Beowulf". Beowulf is an Old English epic poem consisting of 3182 alliterative lines. It is possibly the oldest surviving long poem in Old English and is commonly cited as one of the most important works of Old English literature. 
Gallery
Community content is available under
CC-BY-SA
unless otherwise noted.