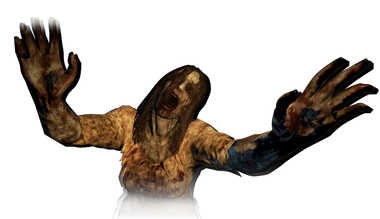 Banshee is an Enemy in Dragon's Dogma: Dark Arisen.
Overview
Banshees are a dangerous form of undead woman found on Bitterblack Isle. They possess a paralyzing shriek which can knock down everyone within range, allowing other foes to gang up on the helpless.
Type

Undead

Experience
gained
Base Experience of 2,450

Can be more or less depending on a few factors such as:

Location

Pre-Daimon

Post-Daimon

Items
Stats
Stats
Health
Attack
Defense
Magick
Attack
Magick
Defense
Weight
8,500
850
300
1,900
1,600
70kg
Relative
Damage
Taken
Slash
Bash

Fire

Ice

Thunder

Holy

Dark
100%
100%
50%
100%
50%
100%
50%
Sources: Dragon's Dogma - ドラゴンズドグマ & Dark Arisen (www10.atwiki.jp) and in-game testing.
Attacks
| Attack | Type | Description |
| --- | --- | --- |
| Flail | Phys | Swings its arms at a target. |
| Grab | Phys/Spec | Grabs a target immobilizing and attacking them. (Struggle to free oneself) |
| Scream | Spec | Emits an ear splitting scream that causes knockdown. After that Banshee falls down on the ground too. |
| Crawl | Phys | Crawls rapidly along the ground towards its target |
Tactics
Vulnerable to Torpor, Tarred, and Petrification.
Resistant to Blindness.
Unlike many other undead, Banshees are easily frozen.
Banshees' signature weeping is the sign of them being prepared to attack (usually Scream). Maintain distance.
Banshees should be dispatched quickly if they must be approached in close quarters, where their shrieks are more effective.
Banshees can be grabbed and thrown off cliffs or into open flames.
Banshees can be picked up any time they're in prone position.
Pawn Bestiary Knowledge
For full information, refer to the Bestiary page or the according section on the Undead page.
Enemy specific:
Weak to Ice
Tarred
Set on fire after Tarring
Freeze then shatter
In addition to witnessing these techniques, it is necessary for Pawns to participate in killing 250 Banshees either with their own Arisen or while traveling with others.
Pawn Chatter
"Is someone there...?"
"A woman...or what remains of one." (no Bestiary knowledge)
"A cacophany of banshees!"
"Ahead, ser! Banshee!"
"Banshees are more apt to freeze than other dead!"
"Only death can silence a banshee!"
"Begin with the banshees!"
"That voice...'tis white-hot pain!"
"Their shrieks are torturous!"
"Magick is little good on their kind."
Trivia
In Irish mythology, the banshee is a female spirit, usually seen as an omen of death. The scream is said to predict the death of one of the persons who hear the banshee (see Wikipedia: Banshee).
Banshees share voice lines with more common female Undead.
Gallery
External Links
Community content is available under
CC-BY-SA
unless otherwise noted.