Badge of Vows 82 is a Badge of Vows medal obtained during the From A Different Sky quest of the same number. The badge is the remnant of a former Riftstone, collecting it earns a reward of Rift Crystals.
In the original Dragon's Dogma, Badge of Vows 82 is obtained as part of the From A Different Sky - Part 9 DLC quest pack, in Dark Arisen, the quest is included in the base game.
Overview
"A badge that glimmers with a mysterious light. Similar medals can be found scattered around Gransys."
This quest only becomes available in Post-Game. The badge is located in an area enclosed by high walls between the Noble Quarter and the Fields.
Picking up this item grants a reward of 1 Rift Cluster and 1,000 experience. This item can be duplicated at The Black Cat for 18,750 Gold.
Walkthrough
Using Frigor
This badge is located at the base of some scaffolding in northern Gran Soren. The area is a small nook to the west of the gate leading to the Duke's Demesne and north of Fournival's House.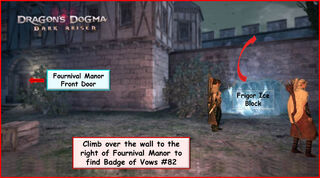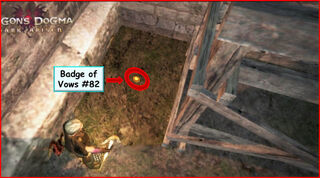 Note that the badges (eg Fig. 2) have been enhanced to better depict their location.
Follow the quest marker to the wall to the right of the Fournival Manor Front door as shown in Fig. 1. The badge is on the other side of the wall. Fig. 2 shows Magick Archer looking down at Badge of Vows #82. Climb over the wall by one of several methods. In Fig. 1, a Frigor Ice Block is used.
Once on the other side of the wall, follow the quest marker to the left of the scaffolding in the corner. Pick up Badge of Vows #82 to successfully complete the quest. The scaffolding can be used to return the party to the other side of the wall. Alternatively, a Ferry Stone can be used to transport the party to its next destination. If the 'From a Different Sky' quests are being done in sequence, Badge of Vows #83 is just inside the Fournival Manor front door.
Alternative methods can be used to scale the wall, including barrel stacking, though that method requires some peace, including the absence of barrel smashing pawns.
The Long Way
This badge can be easily reached by any vocation by taking the wall walk around Gran Soren, starting at the entrance to the towers near the outer gate in the Fields of the Urban Quarter - walk round the walls of the city until the wall separating the Urban and Noble quarter's is reached. Then drop down and collect the badge.
Related DLC
Community content is available under
CC-BY-SA
unless otherwise noted.