Assault Boots is armor available in Dragon's Dogma: Dark Arisen.
Description
"Common Boots with a rather uncommon pair of spiked kneepads, as useful in an argument gone awry as in full combat."
Usable By
Stats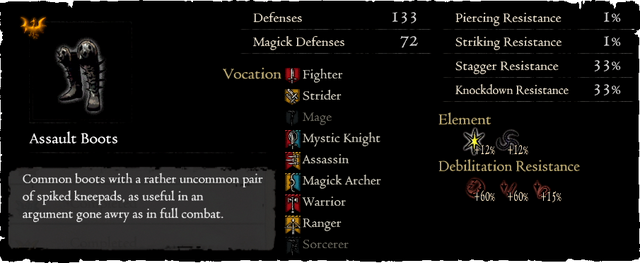 Location
Enhancement Item Locations
Notes
These boots have the highest base strength bonus of all armor in Dragon's Dogma: Dark Arisen, beating the Golden Belt from the original game.
The base add to strength is an additional +30, which can be increased if strength-multiplying augments are equipped on the character, such as Clout, Vehemence, Bloodlust, Ferocity, Exhilaration, Opportunism and/or Autonomy. Note that some of these augment effects are conditional depending on the Arisen's environment and state of health or even the selected skill.
Gallery
Community content is available under
CC-BY-SA
unless otherwise noted.