Alejo is an NPC in Dragon's Dogma.
Overview
"A fisherman from Cassardis. He won't be returning to the sea any time soon due to his injuries."
During Floral Delivery, he can be found in the ruined building used as a makeshift hospital just across the street from Your House. If the player completes Floral Delivery, he can later be found at Valmiro's house in Cassardis.
Quotes
"Mm, (Ooh) just about got my feet back under me, finally. 'Afore all else, I best attend to my tackle. It's lain unused for far too long."
Quests
Notes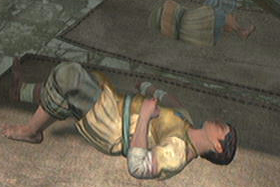 Community content is available under
CC-BY-SA
unless otherwise noted.