A Hero's Worth is a quest available in Dragon's Dogma.
Overview
"Wanted: Stalwart Warriors!
Have you a love for this good land? Would you take up sword and shield to protect her citizens? The valiant brotherhood of the Capital Guard needs you! Do your part to expel all evil from Gransys!"
Slay 35 male bandits around The Ruins of Aernst Castle.
This quest is available on The Encampment notice board after meeting the Duke in the quest Come to Court.
Walkthrough
To reach The Ruins of Aernst Castle, take the Manamia Trail north from the Encampment, heading for the Vestad Hills and the Witchwood.
Slay the bandits on the path down to the castle ruins, or to the left of the path leading down to the beach.
If the party attacks bandits within the castle then the entire of Maul's horde will become hostile.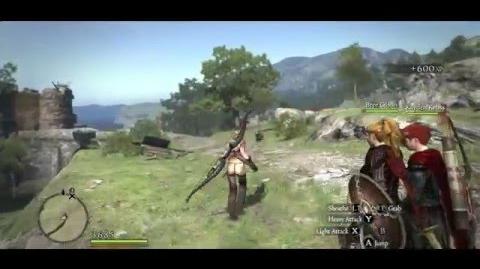 Notes
Only Bandits killed around or within Aernst Castle count towards the total.
Community content is available under
CC-BY-SA
unless otherwise noted.